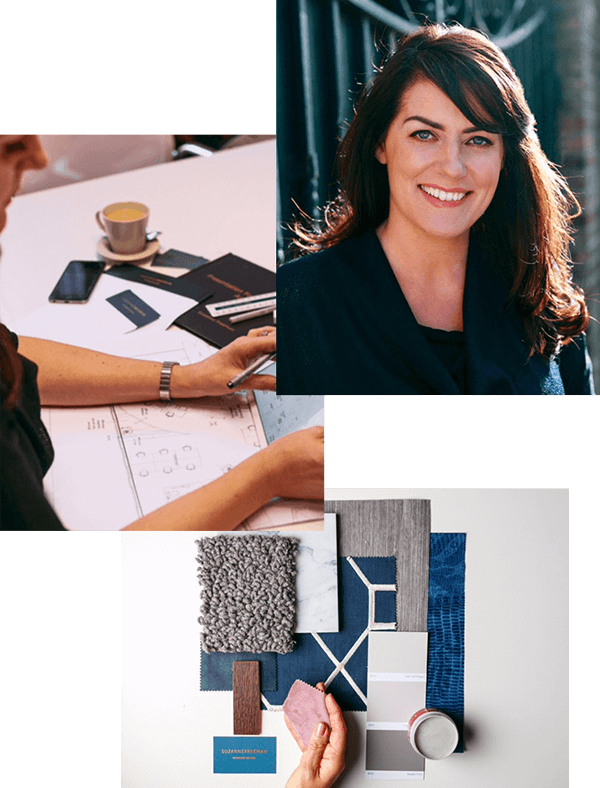 A little bit about Suzanne
---
Suzanne Freeman Interior Design is a commercial and residential interior design practice based in the South East of Ireland, with a portfolio that is one of impeccable attention to detail, creativity and passion for design.
Suzanne established the business in 2003, she is a qualified professional, with a distinction from the Dublin Institute of Design.
Prior to setting up her business, Suzanne was lead designer with a Guinness approved design and build company, specialising in bar and restaurant design globally.
Suzanne's design studio is based in Thomastown and along with her team, they work with clients throughout the country. The business has grown steadily over the years and is now regarded as one of the leading design practices in the South East of Ireland. Suzanne's extensive knowledge of design and her approachable manner is the reason clients choose to do business with her and her attention to detail is what sets the design practice apart.
Suzanne and her team's mission, is to consistently deliver innovative and original interior design concepts, that are grounded in collaboration and years of experience.
With a client portfolio that ranges from hotels, restaurant, bar, retail, office design, show-homes and select residential projects.
The service is personalised and bespoke. The studios ethos is to produce timeless, inspirational interiors which reflect the clients' needs and vision. From architectural layout to soft finishes, all aspects of the design process are carefully curated with the goal of delivering each project on time and on budget. We utilise and engage as much locally sourced talent and skill as we can for each project we undertake.
Happy Clients
'#The Cube' is an incubation hub for start-up business in the Wexford Enterprise Centre. I contracted Suzanne to design and fit out this space in 2017 having seen another project she completed locally.
Suzanne delivered a stunning space with an energetic feel. She has been a true professional from start to finish and a pleasure to work with.
Suzanne put a great level of time and effort into this project ensuring all elements of the installation went smoothly.
Her creativity and attention to detail are unquestioned. I hope to work with Suzanne again on further projects for the Wexford Enterprise Centre
Brendan Ennis
CEO
Wexford Enterprise Centre
Professional to the core, she listened to our business concept, understood our brand and the ethos behind JJ Kavanagh & Sons, and translated this into practical designs. She comes to the table with a fresh outlook, brimming with innovative concepts and ideas, making working with her an absolute delight. Suzanne went above and beyond to deliver what we wanted, all in under the allocated timeframe. Not only is Suzanne very thorough in all aspects of her work, but she is also very imaginative with her designs. She is a designer of choice on our future projects – her approach and enthusiasm are an asset to any team and she is a pleasure to work with!
Laura Kavanagh
Commercial Director
JJ Kavanagh & Sons
Suzanne has worked with us to design and fit out btw showrooms. I have been delighted with her style and attitude. Her ability and attention to detail are unquestioned. I am convinced that our bathware and tile sales have increased because of her designs and her flair for colours. I hope Suzanne continues to create beautiful designs and gets the business that she deserves
Niall McGarry
Managing Director
BTW
My Lingerie Boutique was designed by Suzanne Freeman, she captured the essence of my Boutique with great vision & elegance, Suzanne was a pleasure to work with and I hope to use her expertise again in the future
Bridget Kearney
Proprietor of Belle Femme Lingerie Kilkenny
Suzanne Freeman was contracted by me to undertake the Design and Fit-out of Unit 2, Danville Business Park, Kilkenny.
When Suzanne took on the contract the building was at the Shell and Core stage. The Project involved the conversion of the Unit into 2 separate entities, comprising of a Fully Functional Restaurant on the Ground Floor, with a separate Office Unit on the First Floor, to include extra workspace on a Mezzanine Level.
Suzanne was responsible for all stages of the contract, from Planning, Design, Project Management and Handover, and provided a very impressive turnkey service, delivering the Project on-time and within Budget.
I have no hesitation in highly recommending Suzanne and her company.
Bill Doyle
Wexford County Council engaged Suzanne Freeman in 2018 to refurbish property owned by us as a custom designed Campus for Georgia Southern University, USA. The property is housed in a Georgian building in Wexford Town, and had been used as a courthouse and ancillary offices for many decades. It had not been properly refurbished since the 1980s. The Council were looking for an impactive modern feel that would resonate with international and business audiences. Suzanne manged the project excellently and the results of her work was very well received in all constituencies, particularly showcased at the opening ceremony performed by An Tánaiste, Simon Coveney TD. I would happily recommend Suzanne for any similar work.
Tony Larkin
Director of Services Economic Development & Planning
Wexford County Council
In 2016 I engaged Suzanne for the fifth time. Each time we have hired her, the job has been bigger and results have been even better. But the end result is only half the story. The bigger piece is the ease with which everything was done, the planning, the organisation, the timing, the deliveries, the site management, the sub contractor management, the man management and the calmness with which it is all delivered. Suzanne manages it all. She will also give you a realistic budget and keep you within it.
The single most important thing I had to do, was to stay out of the way!!
Allowing Suzanne the freedom to do her job fully, means that the entire job links together seamlessly. The subtlety of visually connecting one area of your building to another or making sure that there are common themes running through a building is a very powerful statement to a visitor / customer. It shows attention to detail and connected thinking, two strengths that are notoriously difficult to demonstrate.
Whatever business you are in, if you want to make a bold progressive statement, Suzanne is the person to deliver it for you.
Ciarán Sheridan
Managing Director
Sheridan Insurances Ltd.
Suzanne worked on the design of my Kilkenny Restaurant. I can truly say that I don't think I could have picked a better designer to work with. From start to finish Suzanne did a fantastic job whether it was the design, dealing with trades, and keeping me informed and up to date with the program and budget.
This is not an easy job but the sign of a true professional is when nothing is a problem and everything gets done. I thank you Suzanne for your tireless commitment to my project and I look forward to working with you again in the future
Colin O'Shea
Fish Face Seafood Bar
Kilkenny